Posted by: David Sanner 12 months ago
When you've sustained property damage, it's easy to panic. Especially if you've never had to hire a restoration company before. How do you find the best one?
There are several key questions to ask potential restoration companies before hiring them to ensure you find the best fit for your job.
If you are having restoration services done as part of an insurance claim, be sure to ask your insurance agent if there is a specific company you need to hire in order to have the work covered. That's the first step!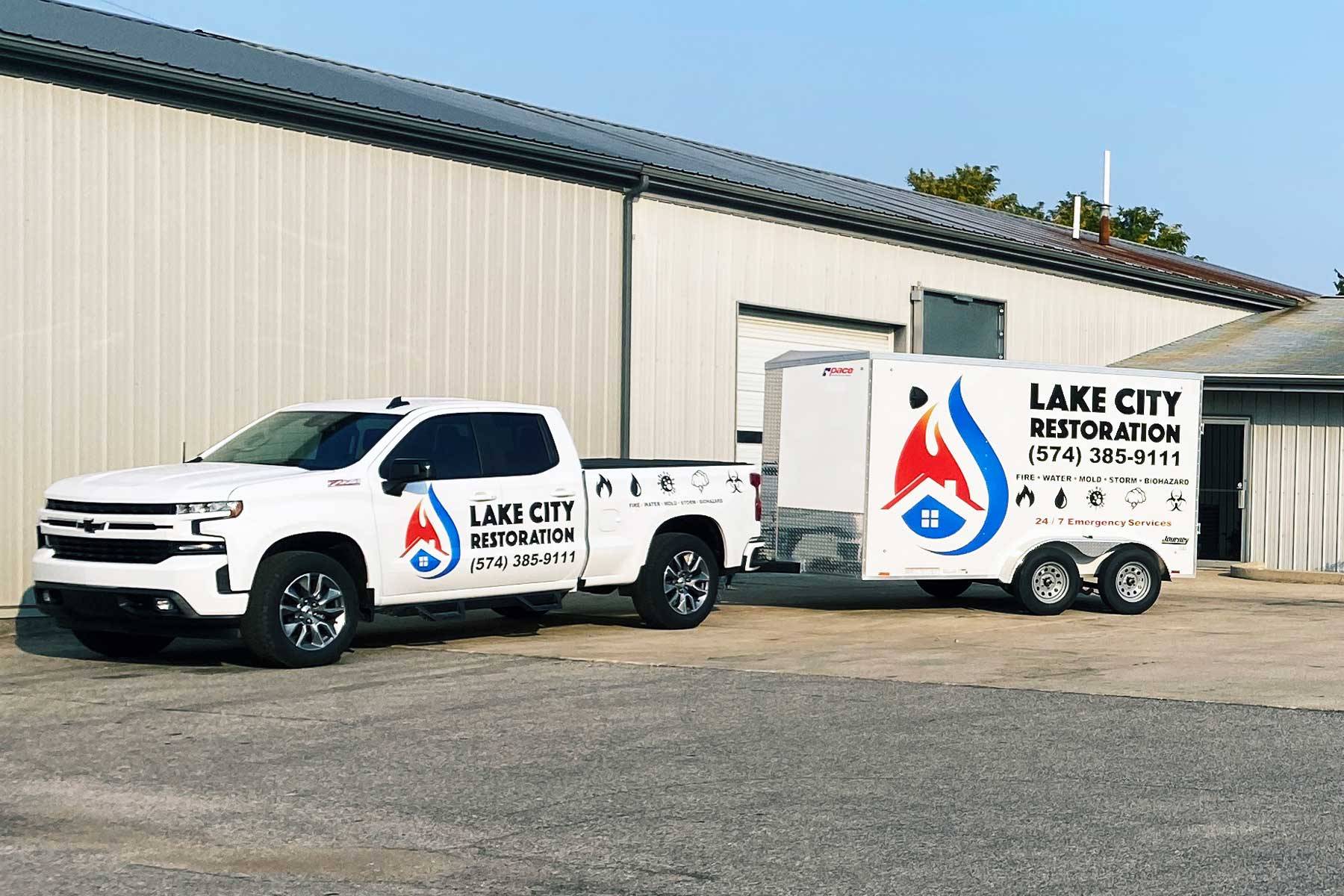 4 Things To Consider When Hiring A Restoration Company
Unfortunately, there are restoration companies out there that display poor workmanship, cause unnecessary delays, hike up the cost of restoration jobs with excessive fees, and can put your property at risk.
We want to make sure you don't end up with a restoration job that adds more stress to your life, so consider the following before you hire a restoration company for your job.
Are They Local?
Choosing a restoration company close to your property is important. It means they'll be able to reach you quickly in an emergency and is also familiar with your area.
Our restoration experts are located on Argonne Rd. in Warsaw, and our service area includes Kosciusko County and the surrounding areas of Elkhart, Marshall, Fulton, Wabash, Whitley, Noble, Huntington, Miami, and Allen counties.
Are They Available 24/7?
Emergencies in your home are unpredictable, which is why Lake City Restoration is available 24/7. We believe it's vital to be there for our customers, no matter the time of day.
If you're experiencing an emergency like storm damage, water damage, or other issues with your home, you need to know you can reach someone to help at any hour.
Check Licenses & Certifications
As is the case for any contractor or professional doing work on your property, you need to check their credentials. The standard for restoration services is to be certified by the Institute of Inspection, Cleaning, and Restoration Certification (IICRC).
Lake City Restoration is certified by the IICRC, so you can relax knowing your project is in the hands of proven, professionally trained technicians.
Look For Reviews
A simple Google search will pull up the online reviews of restoration companies near you. Take a look at recent reviews to get an idea of the services they provide.
We're proud to be highly rated on Google and appreciate our customers leaving us honest reviews of the work we do.
Call Lake City Restoration For Help
Trying to choose the best restoration company in Warsaw can feel overwhelming, especially if you're already facing an emergency or severe property damage. We're always here to answer your questions and help you navigate the insurance and restoration process.
Remember, our services include mold restoration, water damage cleanup, fire damage restoration, storm damage repair, and other necessary restoration services.
You May Be Interested In: