Posted by: David Sanner 2 months ago
Sometimes the worst part of a storm is when it stops and we see how much damage it has caused. With storm season picking up in Northern Indiana, we want to share these tips with you if you notice a leak or water starting to build up on your ceiling after a storm has passed.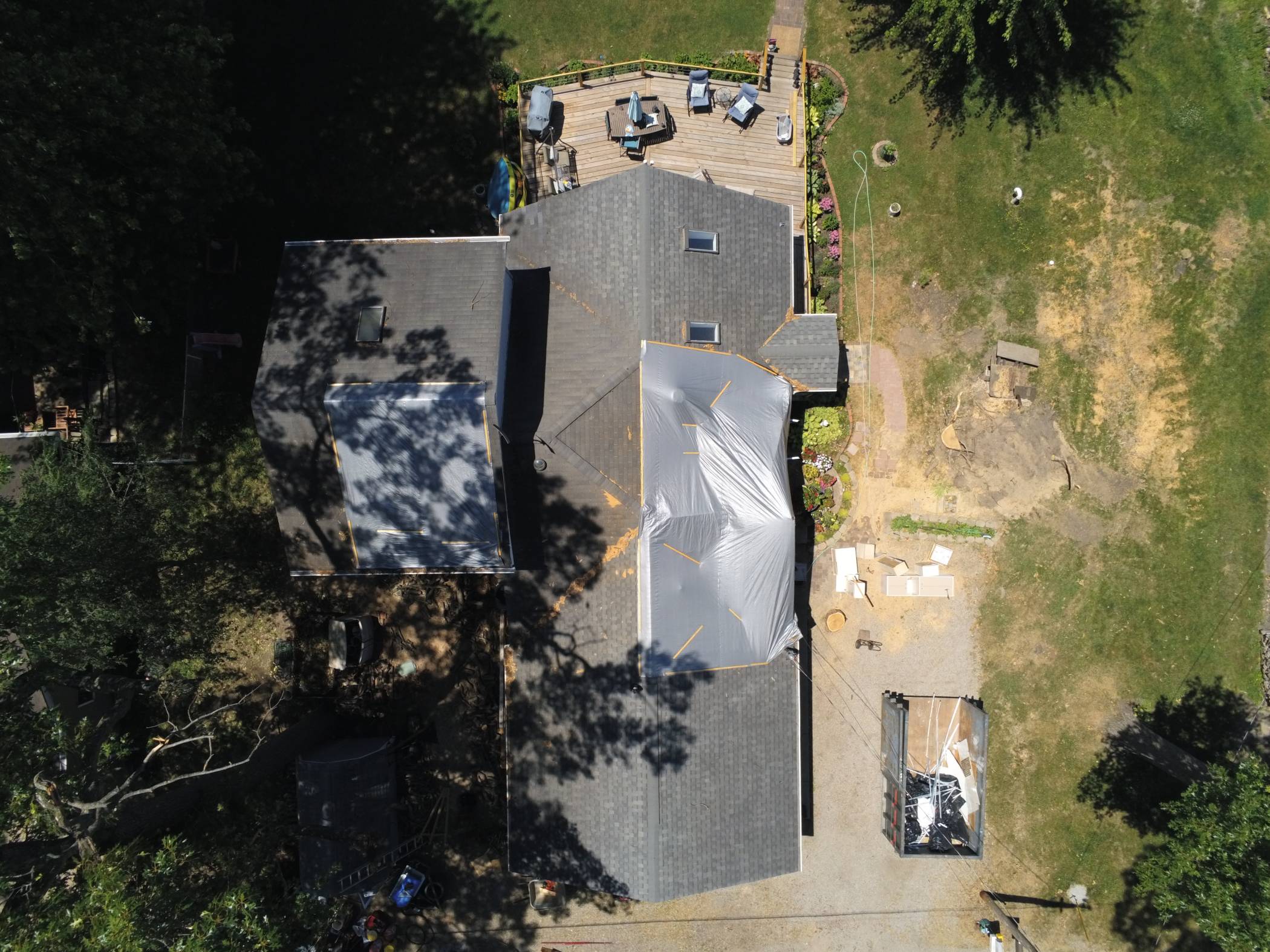 Immediate Storm Damage Control
As soon as you spot a leak, a damp patch on your ceiling, or any other signs your roof has been damaged, it's time to take action! Leaks and water damage following a storm only get worse with time, so it's important to act quickly.
Contain The Water
If you have an active leak (not just noticing a damp spot), get a bucket or waterproof container under it to contain the water. We recommend homeowners have a few 5 or 10-gallon buckets on hand so you don't have to use pots, pans, and smaller containers that may overflow quickly.
We provide emergency tarping and can secure your property if you need extra help dealing with storm damage. Not everyone has supplies on hand to deal with a leak like this, so don't be afraid to call the professionals!
Protect Furniture
If you have furniture in the room or area near the leak, move it if you can. If it is a piece too large to easily move, like a couch, heavy table, or piano, cover it securely with a water-resistant tarp.
Take Photos
If your home has sustained damage from a storm, you will likely need to file a homeowners insurance claim. Start documenting the damage immediately by taking photos of the interior and exterior of your home.
Dry The Floor
If your floor is wet or has a small amount of standing water (like a puddle) due to the leak, dry it immediately before it can soak into the floor or carpet, causing more damage. If standing water is more than a small puddle, treat it appropriately.
Handling The Repairs
Now is the time to call your homeowner's insurance company and file a claim. When you do that, your insurance company should be able to give you the next steps to take.
Remember, we recommend keeping a digital copy of your policy stored in the cloud where you can access it from your phone in case damage to your home makes it impossible to access any paper copies.
Once you've talked to your homeowner's insurance company, give us a call. Our expert technicians are available 24/7 to help take the stress out of repairing a ceiling leak due to storm damage.
We'll walk you through the process step-by-step so you can relax knowing your home is in the hands of professionals. We can even help you navigate the insurance claim process!
Our services include mold restoration, water damage cleanup, fire damage restoration, storm damage repair, and other necessary restoration services.
You May Be Interested In: